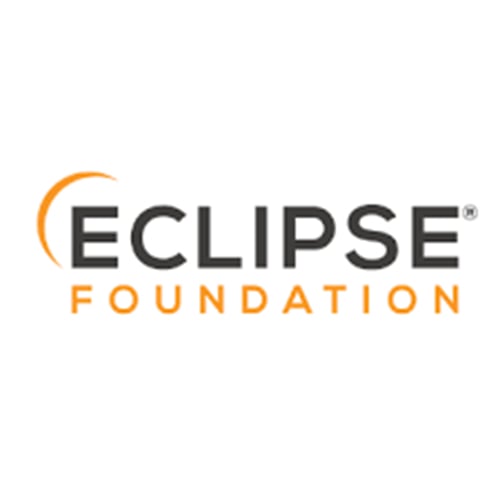 Our BSG recruiter handles our global hiring activities, with a focus on European hires. Serving as an extension of our team, they efficiently coordinate recruitment efforts, screen candidates, and optimize our hiring process. Their responsiveness and effectiveness have led to excellent hires. With over 2 years of collaboration, our BSG recruiter continues to support our recruitment operations and allows me to concentrate on the aspects of recruitment that I want to be focused on: making the hiring decisions. It is efficient and money well spent.
Dennis Leung, VP Corporate Development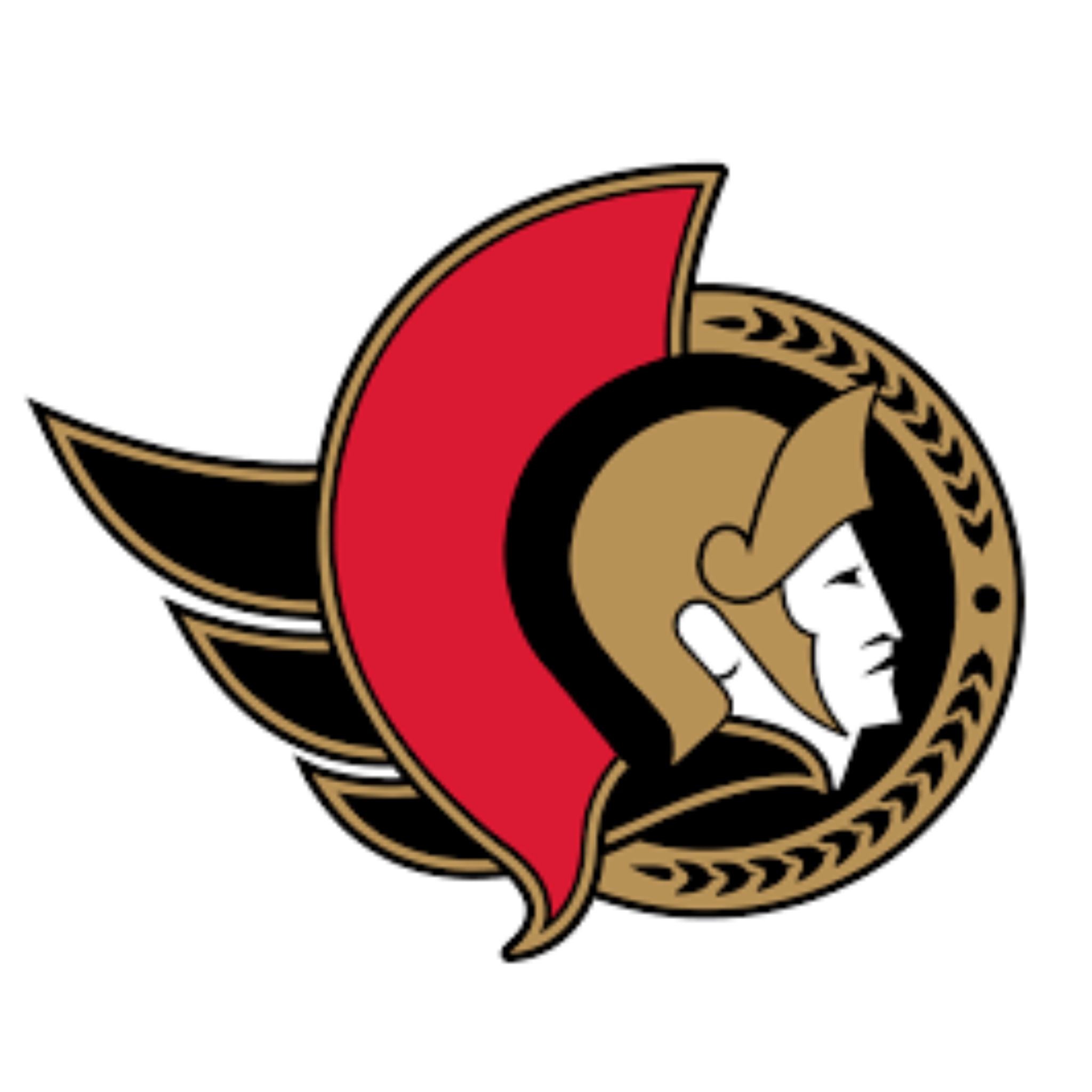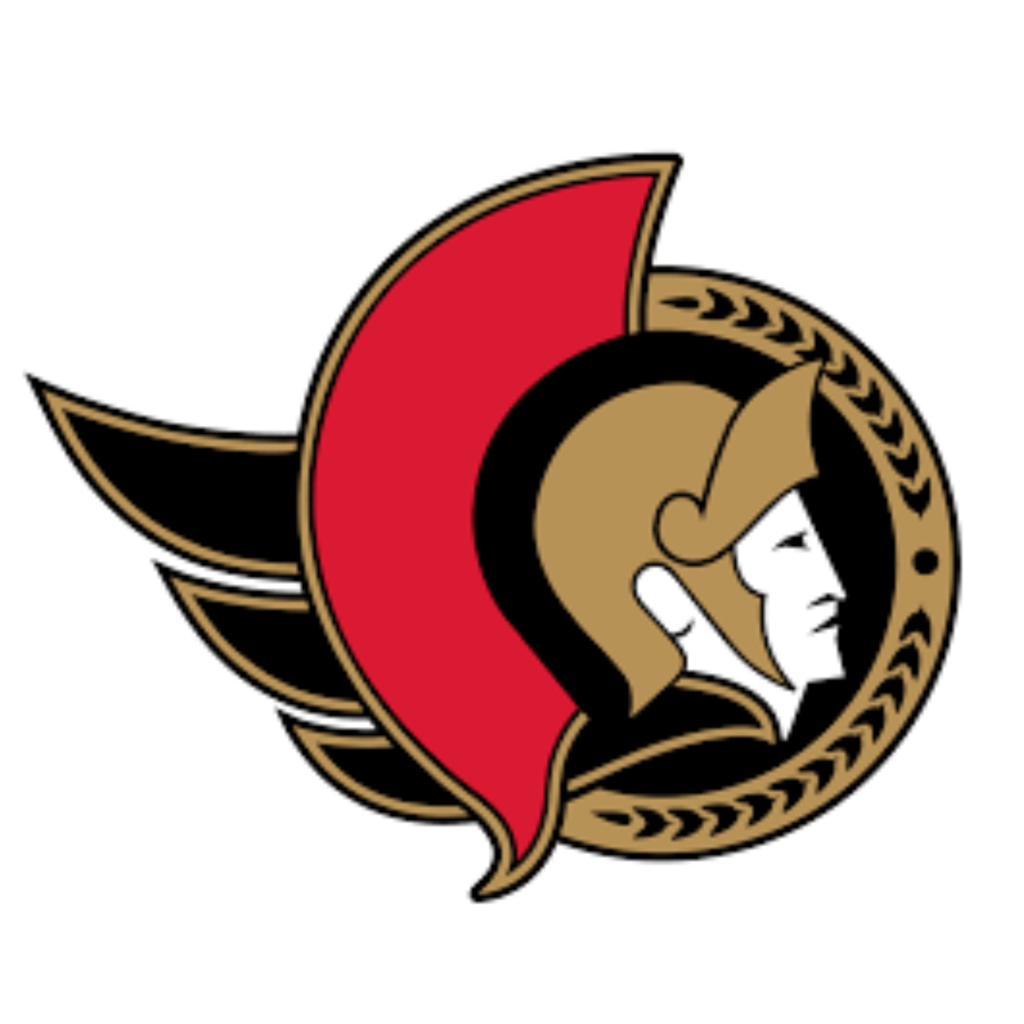 "Business Sherpa Group's (BSG) recruitment services have been invaluable to our organization. With BSG onboard we have been able to hire a high volume of quality candidates through their unique sourcing and recruitment strategies. Our BSG recruitment partner truly understands our business and our culture, making the time to hire much shorter which has allowed us to scale the business quicker and more efficiently. There was a strong sense of trust and we felt like our recruitment partner was part of our team. And as our team grew, BSG was there to support our in-house recruitment efforts. I would highly recommend using their services!"
Laura Dionne, Senior Director, People & Culture
Ottawa Senators Hockey Club

The Developing Leaders Series (DLS) sessions offer great insight and practical skills development for participants. We are excited about the opportunity to foster and accelerate the development of our people via the DLS program. Our manager group benefited from the leadership insight and practical guidance on how to convert the applicable skills into action.
Jim McConnery, CPA,CA,TEP, Managing Partner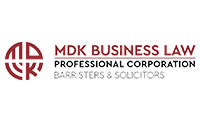 Business Sherpa Group's EmbaarqHR solution has been valuable to our law firm for many reasons other than just the EmbaarqHR platform itself. What stands out in my experience to date is Laura's – the EmbaarqHR Lead – willingness and readiness to help in areas such as employee engagement, performance management, leave, policy, onboarding and offboarding. For example, we wanted to engage employees to see where they stand on personal recognition. Laura worked with us to create an employee engagement survey, where the results were able to provide the firm with how employees prefer being recognized when related to work and the organization. This was helpful when the firm needed to decide how to recognize the employees in a way that they really wanted. Laura and her team also work with our payroll department, which allows our legal team to focus on our important work on behalf of cients. Our whole team feels like we have all of the benefits of an in-house HR professional – what a relief!
Naomi Morisawa De Koven, Managing Lawyer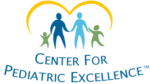 In reflecting on the HR support that I have received from our assigned HR expert, Laura, and the EmbaarqHR team it has been an excellent value-add to my business. EmbaarqHR has created peace of mind that all documents are carefully and logically organized in one place. However, what I have appreciated the most is the support and advice in tricky HR decisions and moments. Having a knowledgeable team to advise on best practices in HR has been invaluable. I have used this both in an emergency setting as well as to consider HR policies. I feel that the advice has been well balanced between compliance, best practice and potential implications of decisions. I appreciate that the approach has been one of advice and open discussion. I really feel that Laura and the team are there to support my business as it grows. I have also appreciated Laura's check-ins to see if I need anything. Knowing that she is there waiting to help when needed is much appreciated. In summary, EmbaarqHR, Laura and the Business Sherpa Group's HR team have provided me peace of mind of compliance, best practice and support in every day and tricky situations. Very impressive support!
Dr. Judy van Stralen, Pediatrician
Center for Pediatric Excellence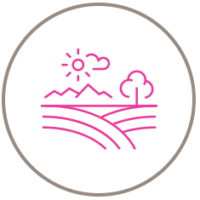 Working with Business Sherpa Group's Bookkeeping team has helped our organization run more efficiently. We were able to transition to more modern accounting processes thanks to their expertise and assistance. For example, our bill payment processes now use apps that digitized how we can pay vendors and records transactions. Our payroll and some of the key financial reports were also revamped. For a growing organization like ours, the value-based bookkeeping model Business Sherpa Group uses can really help get accounting sorted and running smoothly.

Fox Translations has started the process of implementing EmbaarqHR. We believe that the EmbaarqHR is the right tool that will help us to simplify and automate many of our HR functions and manage our growing team. During the onboarding process we learned that EmbaarqHR has most of the tools and functionalities we were looking for in an effort to bring our HR management to the higher level.

As a small firm going through a growth period, we knew we required a solid set of HR policies and expertise to support our growth but could not afford to hire an in-house HR person. Business Sherpa Group along with the EmbaarqHR application gave us exactly the tailored service we needed to support policy development and advice, but also an HR information system to support self-service and automation of HR-related processes.
Mike Sues, CTO/CSO & Senior Ethical Hack Specialist
Rigel Kent Security & Advisory Services Inc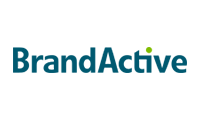 Working with Business Sherpa Group is easy. The Associate that partnered with our team on recruitment support was an extension of our team instantly. Emmanuelle took the time to understand our culture and represented our organization with pride when speaking with candidates. I would recommend BSG to any business that is looking for client-focused HR support.
Stephen Flanagan Senior Associate, People and Organizational Effectiveness

We established a partnership with Business Sherpa Group back in 2016. At that time, we were beginning to see substantial growth in our business and we knew that we needed some support and leadership in HR and Finance to help us scale. Over the years we have relied on BSG to add flexible support where needed, and we've most recently leveraged their recruiting team to help us keep pace with our growing recruitment needs. Business Sherpa Group assigned us a dedicated recruiter who essentially became an extended member of our team, working with our internal HR team and hiring managers to define requirements, support recruitment marketing, and assess candidate qualifications. It has now been nearly 5 years since we initially engaged with Business Sherpa Group and we continue to consider them a key partner to support our growth. Their model provides us with both flexibility and the reassurance of knowing that we can rely on them to bolster our efforts when needed. Their personal and professional service has really made it feel like they've been an integrated part of our team at RBR Ltd.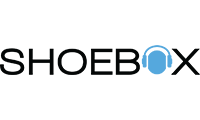 "We did not have a dedicated internal recruiting resource so with increasing recruitment deliverables we turned to BSG to partner with us as our on-demand recruiter. This model provided recruitment expertise with the flexibility to increase or decrease the resource use based on our fluctuating recruitment requirements. Our dedicated BSG Recruiters developed great knowledge of our needs and our environment and effectively sourced strong candidates for our open roles. This continues to be an effective and efficient recruitment partnership for us 4 years later!"
Ann McKechnie, HR Advisor

"Our audits will be much smoother and cost us so much less after investing in this partnership with BSG for financial support. We are so extremely pleased with the level of service we have received and the attention to detail they provide. Automation and efficiencies BSG has introduced to our team has saved us so much time and money over the past year. Signing the contract with BSG for finance controller support has been the best decision I have made as Executive Director for our organization."
Adriana Kusugak, Executive Director
Ilitaqsiniq – Nunavut Literacy Council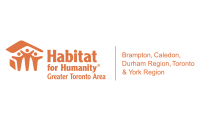 "BSG has been a tremendous support in helping us maintain our operations within our people department during a time of change. We have hired an entirely new P&C team and the support of BSG, in providing specialized resources who were able to quickly assimilate and adapt to our needs has been invaluable. The BSG team played an integral role in keeping the function operating, and preparing to help onboard new staff. Very grateful for the support."
Rodney Mano, Vice President People & Culture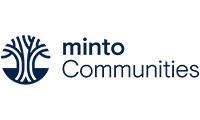 "We found ourselves with an unprecedented number of job requisitions and, with our team being down two members, we needed additional support. Business Sherpa Group was able to quickly step in with minimal ramp-up time and seamlessly assist us to ensure our hiring efforts continued. BSG helped conduct pre-screen interviews and reference checks, and were ready to help in whatever other areas in the recruitment process we required. It was a positive experience and the flexibility of their model works well for us. It was a real pleasure to work with Conor and the team, and we'll certainly use them again when the need arises!"
Nina Ianni-Alice, Human Resources & Talent Acquisition Lead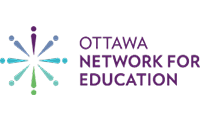 "I had the privilege of working with Business Sherpa Group for the recruitment of ONFE's new Executive Director. The service provided by BSG was personalized and professional. Small or mid-size not-for-profit organizations looking for executive search support would be well served by BSG."

"We're a lean organization and didn't have the time to actively recruit and find good candidates. Having the BSG Talent Solutions team put their experience and dedicated time to use saved us from trying to recruit on the side of our desks. They helped us find an awesome Director of Finance with the right caliber of skills and within our budget. The experience was positive and demonstrated the value of using part-time dedicated support in smaller businesses."
John Rapp, Executive Director
Dovercourt Recreation Association Talent Solutions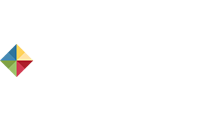 "At Modern Niagara, we have had a spectacular experience with Business Sherpa Group. Beginning as a small construction company 50 years ago, we had limited HR experience and no formal HR department within our company. Around 3 years ago, we began expanding at a rapid rate, and needed expert advice to build the HR function within Modern Niagara. This is where Business Sherpa Group helped us with our expansion. Not only did they provide us an experienced and knowledgeable HR Business Partner who has become a seamless member of our team, but they also recommended a series of strategies and ideas to further expand the HR function. Without Business Sherpa Group, we would not have fully recognized the need for a larger HR function within our company, something that we now could not survive without. The advice and knowledge they provided us had incomparable value. Business Sherpa Group has helped us create strategy that supports the people side of our business, including; recruitment, performance development, employee relations, compensation and benefits, learning, and policy, to name a few. We are so grateful for Business Sherpa Group's contributions to our HR team, and would highly recommend their services to other businesses."
Terry Kelly​, Director Change Management
Every client has a unique journey and story to tell. But there are always shared experiences for other organizations to connect with and find comfort in knowing you're not alone.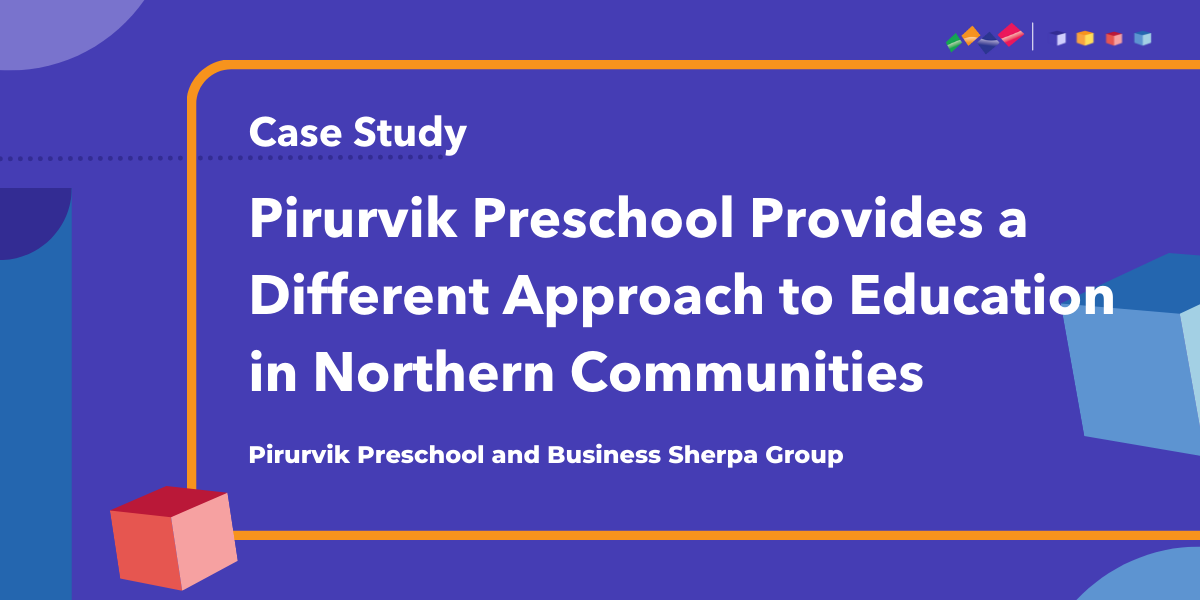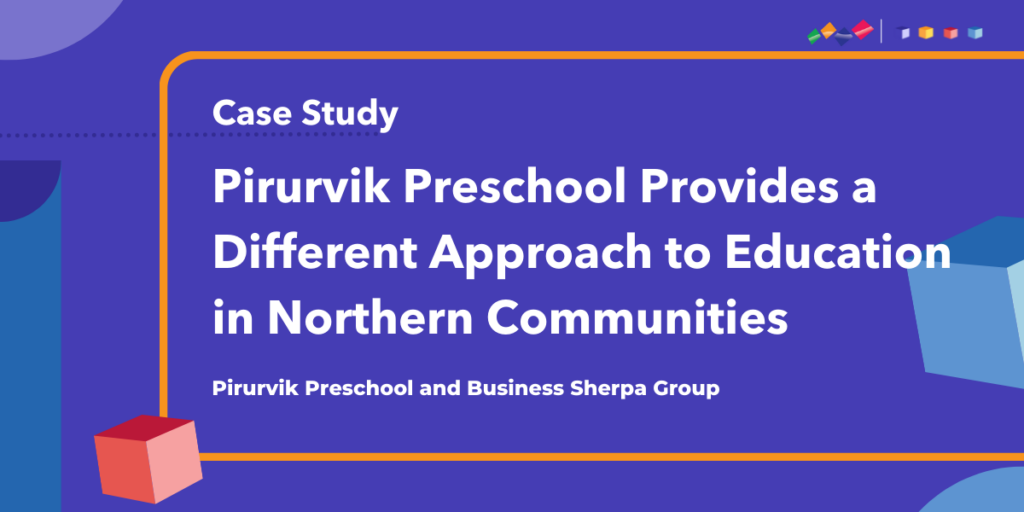 Pirurvik Preschool has been providing culturally specific education in Nunavut for several years, and recently began working with Business Sherpa...